We've unpacked all our suitcases, our heads full of memories. Among our team, we still tell several jokes and stories from our trip on our discussion group. We go through the final edits and final subtitling. After the excitement of getting back home, comes the return to normal life. We still haven't had time to let the dust settle on our Postech road trip experience: 14 dealers, 42 days, almost 15,000 kilometres, thousands of photos, and at least as many smiles! Mario and I left with the Canadian adage "He who marries, inherits a country" in mind, and I think that the opposite may be true as well: I felt so accepted and welcomed into our country – our very own Canada.
All of the Postech dealers had in common this sense of carrying out a job well done, taking pride in their Postech brand, and wearing their hearts on their sleeves. Each of them welcomed us, showed us their region, and took us behind the scenes of their projects with open arms! Above all, it was a warm welcome, and there were even times where we felt particularly spoiled. I was particularly reminded of Kirk, in PEI, who drove all the way to Moncton, two hours away, with a couple of pick-up trucks to come rescue us. He's a man who is unanimously generous and well-liked in his region! He isn't the type to show-off, but more like an old friend with a deep sense of hospitality.
There was also Stan of Winnipeg and the unforgettable Slingshot (no, really, I haven't given in yet, and Mario is going to have to wait to get one!), Steve's blueberry pancakes, the trip to the cheese-makers with Normand, Johnny's kindness, the #BeccaToldMeTo event with all the Maritimes dealers, all the jokes from Rob and his gang, Ray's generosity, Chester's energy, Yves and Jonathan's discretion, all the festivities with Moe and Cedric, golfing with Justin, the gut-busting laughter with Lynda, Andy's friendliness, and last but not least, Vincent and Sandy, who helped us get the ball rolling on our trip by welcoming us in their house on our first day! Yes, we can say that we have experienced lots and lots of amazing moments!
And then, there was our team. When I was a kid, living in France, there was a TV show starring a group of friends, titled Hélène and the Boys. This phrase was repeated back to me all through my childhood, and finally, it actually came to fruition! I felt a little bit like a singer with her band, except we were touring the country and reporting on different locales. We formed a little motley crew, and even though we were five adults and a dog, packed into an RV, we made it through the stress of video production, taking photos, and writing blog posts… all while managing the unexpected obstacles we encountered on the road!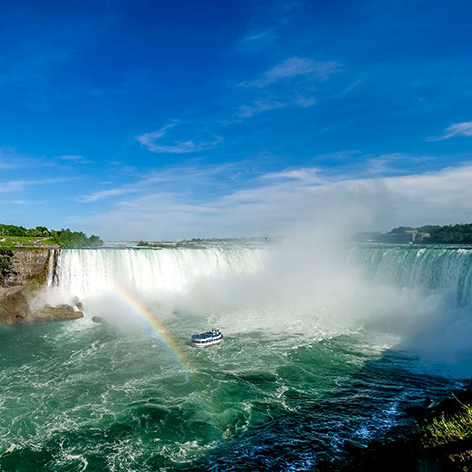 There was no magic formula, though I do think that the presence of our poochy mascot, Ila, was definitely a plus. I also believe that we were so absorbed in our work that we didn't feel the need to get mad, just to relax together when the day was done. And then, finally, there was Martin, our chauffeur, who was amazed by each destination, and who strongly reminded us how lucky we all were to be able to see Charlevoix, the Maritimes, PEI, Québec, Muskoka, Niagara Falls, the West and the Prairies, the trees of Cathedral Grove, the seals from our kayaks in Sooke, the Rockies, and the entire beautiful world of the Vistech-Postech Nation!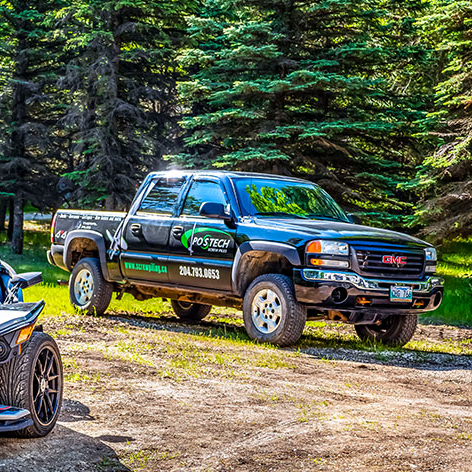 Max and his artistic eye; Joel, our drone pilot and cameraman; Martin, our chauffeur and occasional sound producer; Mario and Ila, my boys… All of them supported me during this crazy project that our company dreamed up one Friday evening in June, and worked so hard to get going! And there was the Postech Nation, too, starting with Jean at the head of it, who's business vision always amazes us, Matthew, our head correspondent and excellent marketing strategist, and Amélie, who herself was a real digital pioneer and first-class partner. For our team, they have been a real solid support, and gave us access to the incredible world of their franchised dealers. But that support also extends to the whole team at the head office in Sherbrooke, QC, to whom we sent postcards as promised, and to the different dealers – even those that we could not visit – who also made this adventure so memorable, and gave it so much of its depth!
Now that we're back home, that our suitcases are unpacked, and that we start to prepare for our wedding (scheduled for October), among many other projects, we feel a deep gratitude toward all those who helped us realize this dream. Now that I have travelled and met all these people from the different provinces, I am more proud than ever to make my life in Canada and, like the motto we've seen so many times over the course of this trip, "start off on a solid foundation" the future that Mario and I have ahead of us. Thank you for all your support. Thanks to everyone for following, liking, and sharing this adventure into the heart of the Vistech-Postech Nation!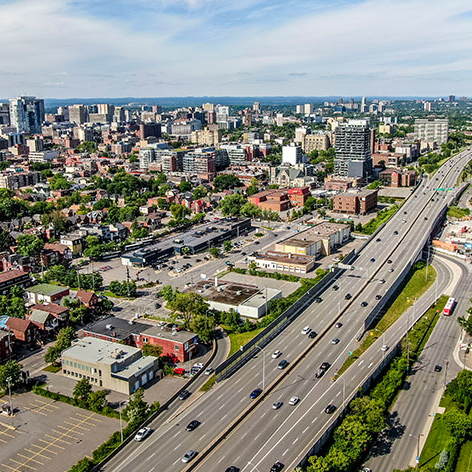 We can't wait to meet again!
Hélène