This is what we did at one of our franchisee's clients by expanding their living space with an adjacent wooden deck, protected by a magnificent, covered pergola. The perfect combination for enjoying the outdoors during the summer season.
How many piles and for how long?
To ensure that they were building his deck with pergola on something solid and have peace of mind for several years, they trusted Guy Trahan's team of experts from Pieux Vistech Suroît / Valleyfield to install the 12 piles. 2 3/8 "diameter screw piles were required for this project.
The wooden deck being topped by a pergola added weight and height. These parameters must be taken into consideration to properly determine the diameter of the piles, as well as the appropriate heads. It is with this in mind that Guy Trahan, experienced Pieux Vistech Suroît / Valleyfield owner, recommended the installation of piles with custom adjustable 3 1/2 "U-shaped heads.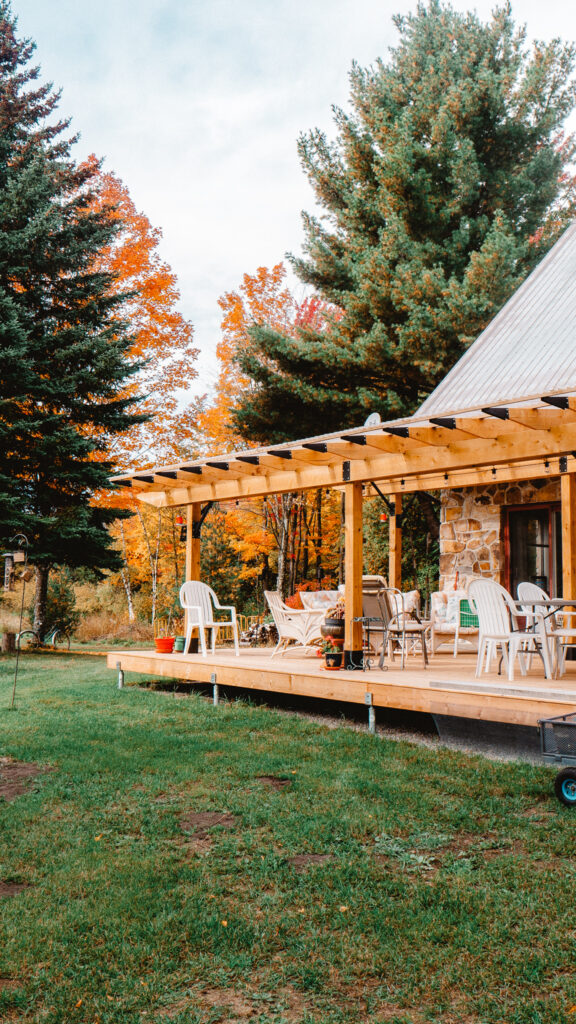 The challenges of the deck project
The challenges encountered during screw pile installation projects are often related to soil quality. Here, the ground being very rocky, it was necessary to use the mini excavator (also used for the installation of the screw piles) to dig at the location where the piles would end up and remove the rocks from the ground.
However, the years of experience of his team made it possible to achieve this without damaging the client's land, allowing the delivery of a clean site, built on solid ground.
Despite this challenge, installing the piles only took one morning, and the client was able to start building their deck that same afternoon.
The Vistech advantages for this deck
The Vistech screw piles have made it possible to reduce construction costs, as well as the duration of the construction of the deck.
Our certified installers can lay a screw pile foundation like this in half a day, with a team of just two people.
In addition, it only requires light machinery, thus causing no damage to the land.
And you, do you have a deck project to build on?